Fabricated Functional Steel Structure Prefabricated Basketball Gymnasium Building Design Gym Sports Hall
Product Detail
Product Tags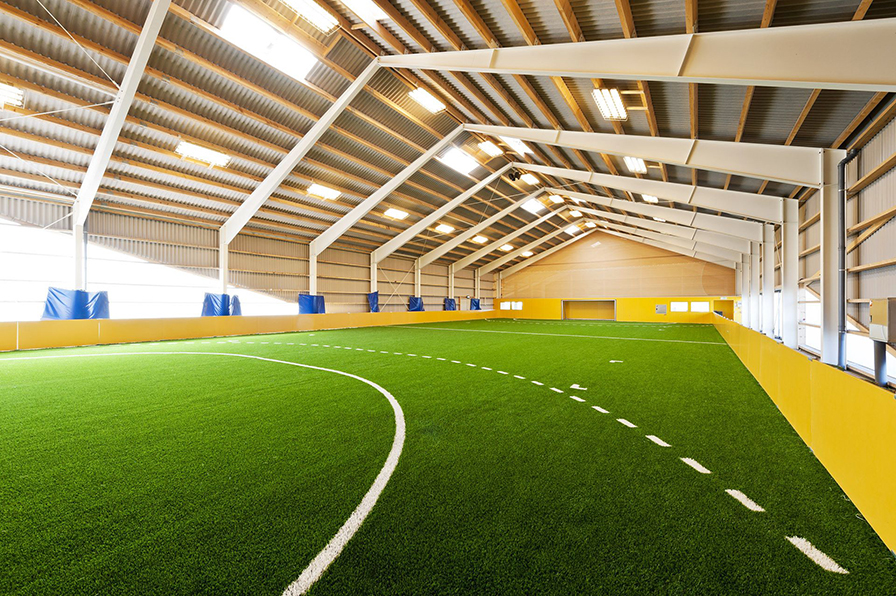 Between the bitter cold of winter and the blazing heat of summer, Sports hall steel structure is a very attractive option for providing a venue for sports and other activities year' round. Budgeting for a project of this complexity and size should take in more than the upfront costs of materials. The total cost of ownership creates a better picture of the cost-effectiveness of construction materials, associated labor and future maintenance.
Steel wins this race every time. Not only is Sports hall steel structure constructed of metal durable and versatile, but it is also affordable to build and maintain.
DURABILITY
Nothing is more durable than steel for building. Steel is fire-resistant, light yet strong and creates a safer structure than any other construction material.
Sports hall steel structure withstand high winds, extreme weather and seismic activity better than wood frames or concrete.
A Sports hall steel structure remains functional for decades with proper maintenance.
Steel resists the depredations of mold, rodents and insects.
Steel is the only material to use for large, clear-span structures.
Steel does not warp, rot or sag with age.
Steel that has been properly coated will not rust or oxidize when exposed to moisture.
For a Main Wind-Force Resisting System.The most cost-effective way to meet this standard is to build with metal.
In regions where winds can reach 150 mph or more, steel frames have a significantly higher survival rate than wood frame construction. Projectile damage is prevalent in high-wind events such as hurricanes and tornadoes; steel is better suited to withstand impact than other materials. It is also easier to design for the most stringent wind uplift codes using a steel roofing system.
Steel has been the building material of choice for over a century and for good reason. Steel buildings from the late 1800s are still in use in the United States and Britain. The Royal Insurance Building, now the Aloft Liverpool Hotel, was built between 1896 and 1903 and is still in use today.
VERSATILITY
The pace of change is beginning to reach warp speed. You need a sports arena that can meet current and future needs. Steel buildings have an advantage over other structures in that they are readily reconfigured for new uses. To make the most of any clear span building, it should accommodate a wide range of activities and events.
Steel buildings can also be designed to allow for expansion. You can build the arena you need today with the confidence that you can add space later.
Many sports arenas double as concert venues and host other events requiring large, open spaces. Once the main frame is assembled, anything created inside the building can be removed, replaced and renovated into any configuration you like.
Besides the main arena, your Sports hall steel structure will require locker rooms and storage areas. Practice rooms and smaller spaces for classes or smaller events can be blocked out using a movable framework to increase or decrease room size and configuration. You may wish to shift the arena itself into two or more spaces when needed.
State fairs take advantage of clear span design to hold stock shows and rodeos. Arena football is becoming popular, requiring open space for both audiences and players.
None of these structures could be built realistically without steel.
AFFORDABILITY
Sports hall steel structure is cost effective throughout its lifetime of service, beginning with the cost of materials and assembly.
Sports hall steel structure are delivered to the construction site ready for erection with pre-punched holes, all required fasteners and complete plans for assembly.
The shorter construction timeline afforded by a steel building saves on the cost of labor, noise abatement efforts and equipment rental.
You can save money on foundation design and installation because a steel building requires a less substantial foundation with a smaller footprint than structures made of concrete, bricks and mortar or wood.
Faster frame-up times allow trades to move in quickly to install utilities and perform interior finish-out.
Design & price your Sports hall steel structure online
The faster your arena can be completed, the sooner you can begin to receive revenue from operations. A shortened construction time-line decreases the chances of job site accidents and injuries is a bonus.
Further cost savings can be found through a reduction in change orders. Sports hall steel structure is reviewed by the architect, engineer and the owner for potential issues or required changes before the structure is fabricated.
Remember steel's durability and resistance to damage? Those attributes save money on insurance premiums. Insurance companies offer attractive rates for steel frame structures.
Steel does not burn or spread fire throughout the structure.
Steel receives less damage, if any, from seismic and weather events than traditional construction.
Steel creates a safer building overall and often is used to create severe weather shelters.
Maintenance is minimal for steel buildings. Steel roofs require periodic cleaning and inspection. Damaged panels are easily repaired or replaced. The metal exterior does not require repainting unless the finish has been damaged. While non-steel interiors require constant cleaning, particularly with the number of people expected to occupy the building, the underlying steel frame and secondary framing and panels require little attention.
Sports hall steel structure have three major benefits. They are durable, versatile and affordable. All other benefits stem from these three. With a short construction time, a long service life and the ability to change when needed, steel sports facilities provide the community with an attractive, useful place for sporting events, entertainment and other uses that can bring in revenue to both the facility and the surrounding businesses.
If you are planning Sports hall steel structure, look to steel to save you money and provide a covered clear span space that you can use for almost anything.
---
---
Write your message here and send it to us