Steel Structure Space Frame Poultry Shed Cow Shed Farm Building
Product Detail
Product Tags
China Low Cost Prefab Metal Steel Structure Cow / Horse /Chicken Sheep Farm Building / barn / shed for sale
 A: Components of Steel Structure Space Frame Poultry Shed Cow Shed Farm Building
1)Wall panel: sandwich panel with color steel two sides and EPS foam filling width:1200mm 1k=1200
2)Column: C style steel, H shape
3)Floor beam: C style steel,200*40*2.0mm
4)Floor: light magnesium board (our patent)
5)Stair: metal
6)Roof truss: angle steel
7)Purling tube metal
8)Roof panel: corrugated sandwich panel with color steel two sides
9)Door: aluminum frame with panel same as wall, with lock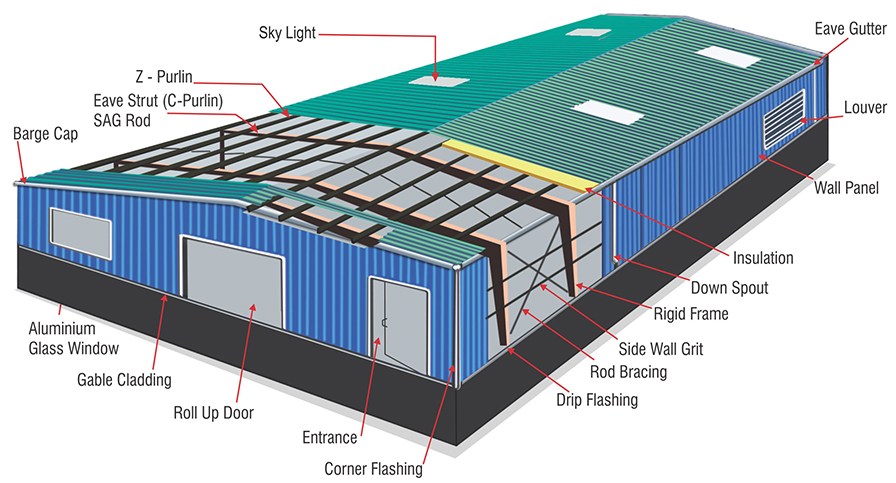 Remark: this list is for your reference but the elements can vary for Steel Structure Space Frame Poultry Shed Cow Shed Farm Building.
Technique Index of Steel Structure Space Frame Poultry Shed Cow Shed Farm Building
Earthquake resistante: 8 fission intensity
Wind pressure: <31m/s about 10 grade
Roofing snow load; <80kg/m2
Roofing live load: 50kg/m2
B:Steel Structure Space Frame Poultry Shed Cow Shed Farm Building
Specifications

1)Size:MOQ is 10m2, width X length X eave height, roof slope

2)Span: 9-180m,type:Single slope, double slope, muti slope; Single span, double-span, Multi-span, single floor, double floors!

3)Height: 3-10m

4)Slope: 1/20, 1/10,1/5,1/3

5)column distance: 6-9m

6) Base:Cement and steel foundation bolts

7) Column and beam:Material Q345(S355JR)or Q235(S235JR) steel, all bolts connection! Straight cross-section or Variable

8) Bracing: X or V or other type bracing made from angle, round pipe, etc

9) C or z purlin:Size from C120~C320, Z100~Z200

10) Roof and wall panel:Single colorfull corrugated steel sheet0.2 ~1.2mm thick, such as YX25-207-828 or sandwich panel :sandwich panel with EPS, ROCK WOOL, PU etc insulation thickness around 50mm~150mm, YX40-320-960

11)Accessories:Semi-transparent skylight belts, Ventilators, down pipe, outer gutter, etc

We are glad to bulid steel structre as your given drawing.If you need we design for you, pls supply us the following parameter together with detail size:

Design Parameters

1)Live load on roof(KN/M2)

2)Wind speed(KM/H)

3)Snow load (KG/M2) if have

4)Earthquake load if have

5)Crane (if have) ,Crane span, crane lift height, max lift capacity

6)Doors and windows: dimension, quantity, position

7)The materials on the roof and the wall

8)Crane need or not. if yes, please tell me the max lifting weight and max lifting height.

9) If you have other requirements,please also inform us.

10) It is better if you have your own drawings. please send them to me.
C:Steel Structure Space Frame Poultry Shed Cow Shed Farm Building process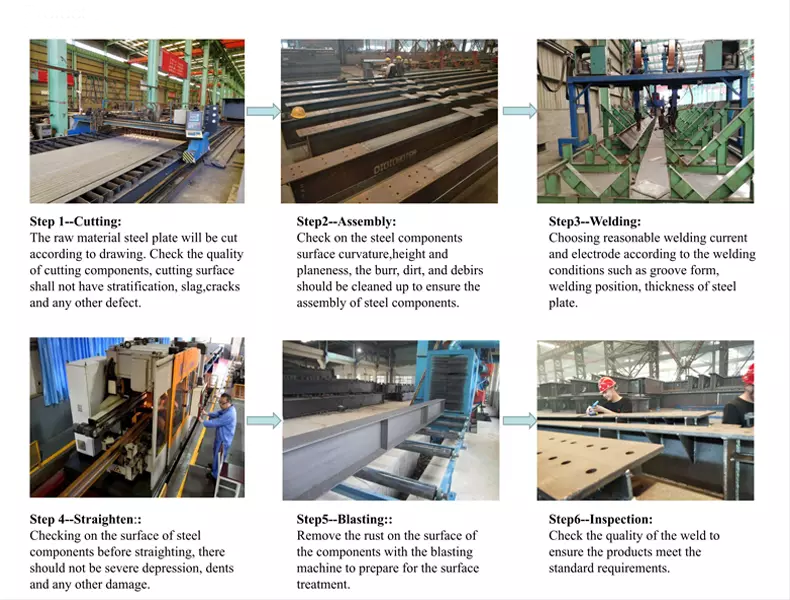 In order to supply the most suitable drawing and best price for you, our design team need to confirm some information with you, as below:
1 Location (where will it be built? ) _____country, city_____
2 Size: Length*width*height _____mm*_____mm*_____mm
3 Wind load (max. Wind speed) _____kn/m2, _____km/h, _____m/s
4 Snow load (max. Snow thickness)_____kn/m2, _____mm
5 Anti-earthquake grade_____
6 Brick wall needed or not. If yes, 1.2m high or 1.5m high?
7 Thermal insulation requirement. If yes, EPS/fiberglass wool/rock wool/PU sandwich panels will be suggested; If not, the metal steel sheets will be OK. The cost of the latter will be much lower than the former.
8 Door quantity & size _____units, _____(width)mm*_____(height)mm
9 Window quantity & size _____units, _____(width)mm*_____(height)mm
10 Crane needed or not. If yes, _____units, max. Lifting weight____tons; Max. Lifting height _____m
---
---
Write your message here and send it to us