Steel Frame Building Customized Modern Aircraft Hangar
Product Detail
Product Tags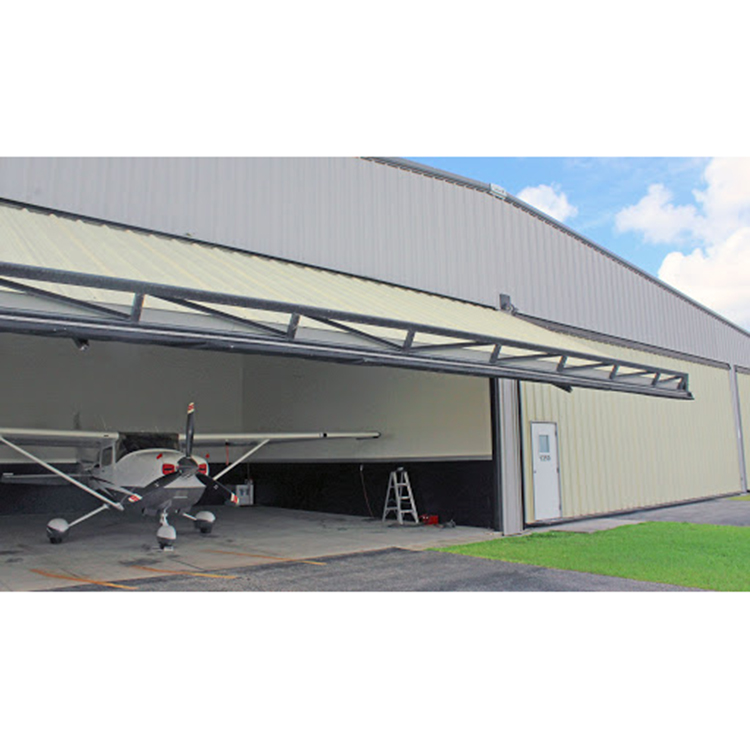 Different Types Of Heavy Steel Structures
We offer a variety of steel structure hangar to meet varied needs of customers, such as single span steel construction, double span steel structure and multi-span steel structure. Specifically speaking, single span steel structure consists of two rows of steel columns, and double span steel structure hangar usually composed of three rows of steel columns. Besides, overhead crane runway beam is optional based on your specific use.
In addition to heavy steel structure, we have light steel structure for you to choose from. Contact us now to get the most suitable steel structure solution. 
Applications Of Steel Structure Construction
Nowadays, steel structure can be adapted to almost all kinds of structure applications, including but not limited to:
Industrial steel buildings: steel structure warehouses, steel structure workshops, steel structure storage sheds, etc.
Equipment support structures: crane beams, cement kiln tails, boiler towers, etc.
Heavy industrial plants: power plant
Great Advantages
The steel building has high strength, light weight and large span.
The construction period of steel structure is short since it can be pre-engineered at the factory an then assembled at site. The erection process is fast and easy.
It has lower cost than other types of structure like concrete structure and timber structure.
The steel structure hangar building has excellent fire resistance and corrosion resistance.
The structural steel can be recycle without pollution.
The heavy steel structures can be built with any kind of shape. It is also easy to expand in the future.
The structural steel is easy to maintain and can be used for many years.
Steel Structure Design
Heavy steel structure, as the name implies, uses steel as its main load-bearing member, mainly including steel columns, steel beams, steel roof. The structural steel can be jointed in many different ways, such as bolting, welding and riveting. The steel structure hangar built over three members that are connected to each other:
The primary member: steel columns, steel beams, wind-resistant columns, bridge crane runway beams. The steel column can be an H-shaped steel of equal section or variable section. The main material is Q235B or Q345B. H-shaped steel of equal section is generally adopted when the building span does not exceed 15m and the column height is not more than 6m. The common used steel beam is a kind of I-shaped section that consists of upper and lower flange plates and webs.
The secondary member: C or Z purlins, horizontal bracing, vertical bracing. The roof or wall purlins usually adopt C shape, whereas Z-shaped purlins are particularly suitable for large slope roofs. Horizontal and vertical bracing systems are meant for the overall stability of the steel frame.
Roof and wall sheeting connected to each other. The wall and roof panels are available in color steel tile or color steel sandwich panel. Besides, in order to save energy and improve indoor lighting, the lighting panels are generally added to the roof.
Fabrication Of Steel Structure
The steel structure can be tailored to meet your project's requirements. We also offer many different structural and non-structural additions, such as crane systems, doors, windows, trusses and turbo vents. The primary and secondary members are fully designed and fabricated at the manufacturer's factory, including cut-to-length, punching, drilling, welding and performing, and then shipped to customer's site for erection.
The paneling of prefabricated steel structure is made to overlap when connected to each other so as not to leave any openings. Therefore, the steel building can be insulated against outside conditions.
Since all components can be prefabricated in the factory, and assembled and jointed by means of nut and bolt connections at site, it will greatly reduce construction time and cost. What's more, our steel structure hangar designed and built with large carrying capacity, thus it can resist the impact of strong wind, heavy snow and earthquake.
Considerations When Selecting Steel Structure
There are a few considerations you need to take into account in order to identify a proper structure.
Building length: specify the total length of the building as well as the column spacing. Generally, the column spacing is 6m. It is also available in 7.5m, 9m and 12m.
Span: the building span is usually in a range of 9 to 36m.When the required span is large, you need to determine the span number, such as double span and multi-span.
Height: when there is no crane used inside the structure, the net height is 4.5-9m. If there is a crane, you should first specific the model and lifting height of the crane.
Runway beam: do you require crane runway beams? If so, you should determine the crane specifications.
The requirements for roof and wall insulation.
Backed by well-experienced engineers, we are capable of offering you the most economical, durable and reliable steel structures for your project.
---
---
Write your message here and send it to us