HJSD-2-3-1 2 floors 3 bedrooms prefab houses villa with quality assurance
Product Detail
Product Tags

Product Feature
HJSD-1-2-1 Ready made casas prefabricadas villa 1-story duplex design
Shock resistance: It can withstand 9 rare earthquakes and is suitable for areas with seismic intensity above 8
Wind resistance: resistant to 70m/s hurricane, wind resistance rating is 14 or above
Durability: The main structure can last for more than 150 years
Fire resistance: refractory time of up to 1~4 hours according to different designs
Sound insulation: the sound insulation of the external wall can reach 75dB, and the inner wall can reach 55dB.
Heat Insulation: The thermal resistance of 200mm thick composite wall can reach 3.2m2K/W, which is 11 times that of traditional buildings of the same thickness.
Environmental protection: more than 90% of steel structure materials can be recycled, and most other supporting materials can be recycled.
Energy-saving: using new materials for heat preservation and heat insulation, the energy required for heating and cooling is 65% more energy-efficient than traditional buildings.
Housing rate: Light steel integrated housing increases the practical area by about 12% compared with traditional buildings
Construction period: assembly and standardization of light steel structure houses is simple and fast, saving 2/3 construction period compared with traditional structure.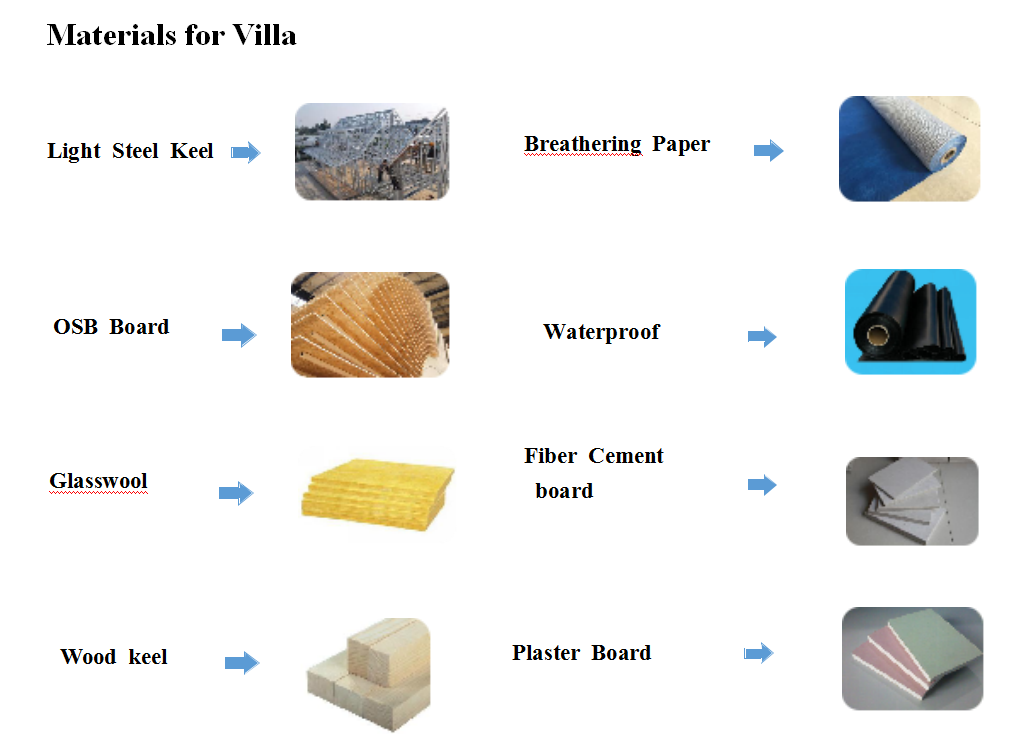 Roofing system
The composite roof has the functions of rainproof, weatherproof, heat insulation, etc.       
The shape can be diversified according to customer needs.
The roof is designed with a ventilation loop to keep the indoor air fresh.
Wall system
The wall is filled with fiberglass surface, and the outer wall is covered with thermal insulation board, which has good heat preservation, heat insulation and sound insulation functions.
Breathable paper is waterproof and breathable, effectively adjusts the indoor air humidity, makes the living more comfortable, and can effectively prevent mold growth in the wall. The pipeline is buried in the wall and does not occupy indoor space.
Interior wall
With the dry places. we will use the Gypsum board, but with wet places, such as kitchen, bathroom, we will use fiber cement board.
| | |
| --- | --- |
| | |
| Security Door | Broken bridge aluminum window |
---
---
Write your message here and send it to us