3D Steel Structure Building Best price Steel Workshop
Product Detail
Product Tags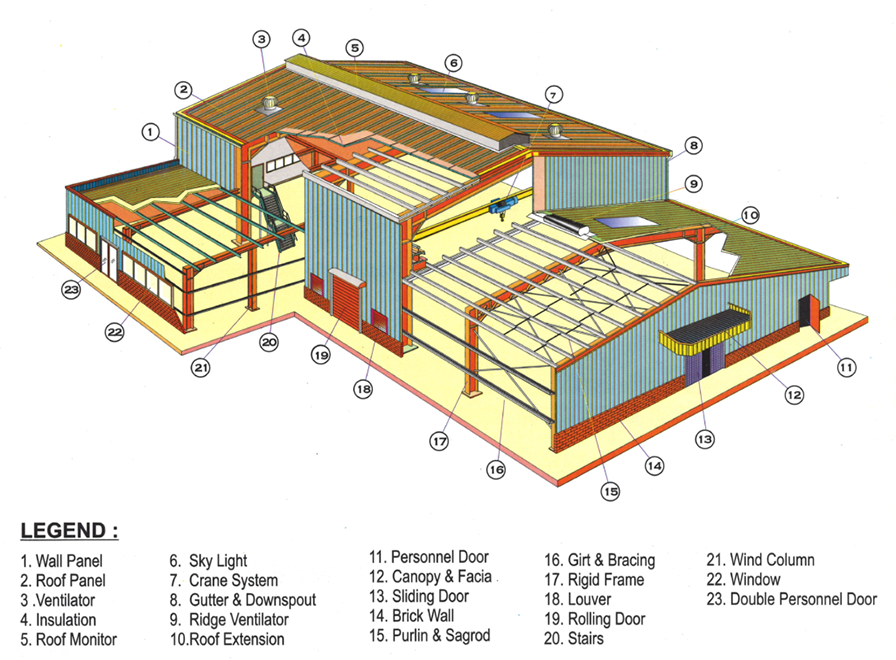 Definition
"steel structure buildings" are those which are fully fabricated in the factory after designing, shipped to site in CKD(completely knocked down) condition; and all components are assembled and erected at site with nut-bolts, thereby reducing the time of completion.steel structure means, generally speaking, is any part of a structure that is manufactured prior to its arrival on the building site. The concept of the steel structure building (steel structure) is one where the fabrication is completed in a controlled environment with the latest technology, and then subsequent erection is carried out.Though initially only off the shelf products were available in these configurations aided by the technological development tailor made solutions are also made using this technology in very short duration.
The designs were ready-made but the building components were either ready-made or manufactured against specific orders. These buildings were pre-designed or 'steel structure' into standard sizes, spans, bays and heights, and use standard details for fixing cladding, roofing, gutters, flashing, windows, doors etc taking advantage of industrial practices of mass production of components economically.A healthy trend in the form of growth in demand for construction works in residential, Commercial, Institutional industrial and infrastructure sectors are being seen over the past decade. Modern Structures are much more complex and sophisticated as compared to earlier period. One of the major changes which are being felt by all is that the present structures are taller and thinner. Modern day requirement of structures is that these should be lighter yet not compromising on functionality. Civil engineering construction has seen a continual economic competition between steel, concrete and other construction materials.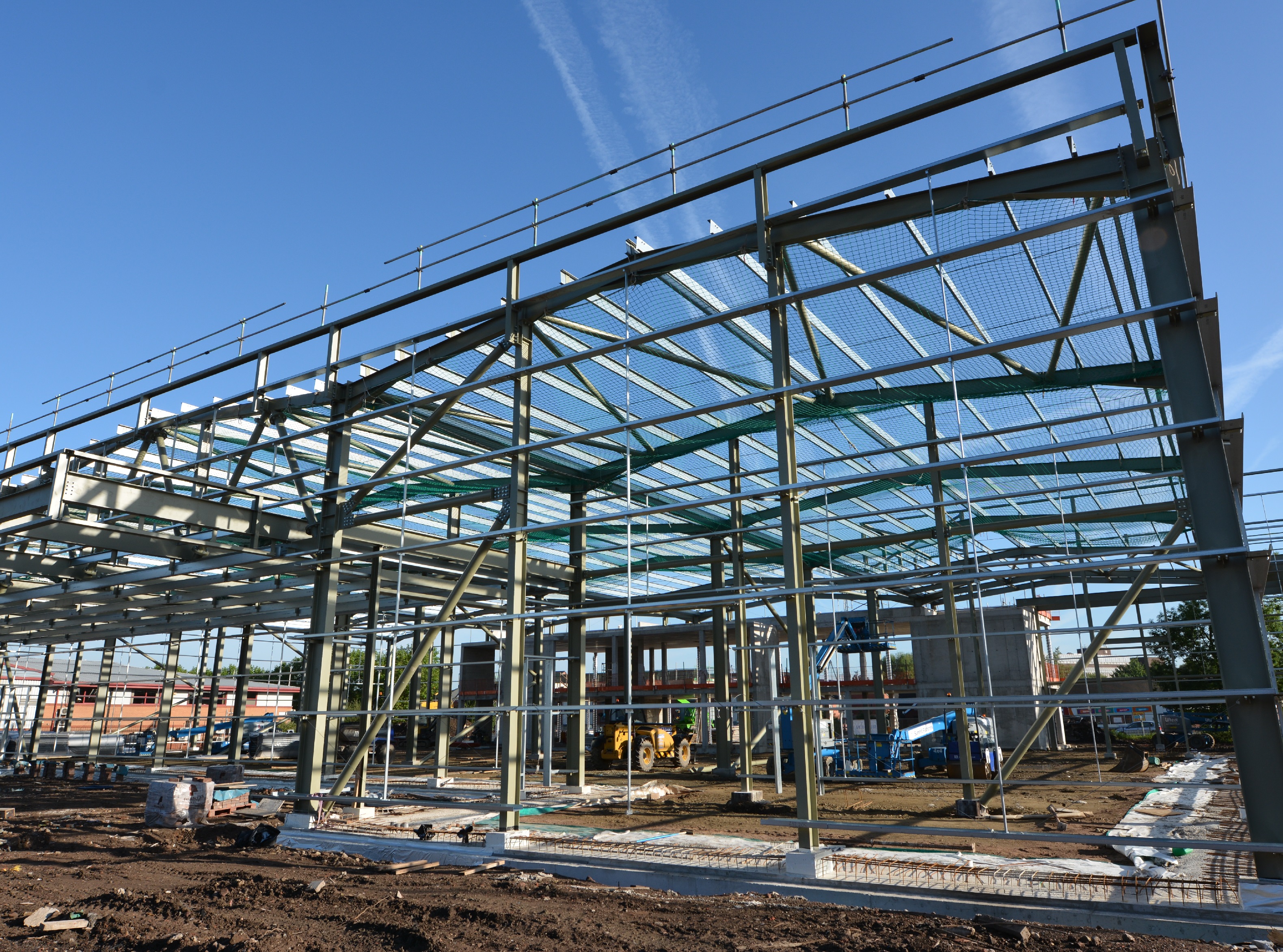 The Concept: Superiority of steel structure over Conventional Construction
 steel structure steel buildings use a combination of built-up sections, hot rolled sections and cold formed elements which provide the basic steel frame work with a choice of single skin sheeting with added insulation or insulated sandwich panels for roofing and wall cladding. The concept is designed to provide a complete building envelope system which is air tight, energy efficient, optimum in weight and cost and, above all, designed to fit user requirement like a well fitted glove.
These steel structure Steel Buildings can be fitted with different structural accessories including mezzanine floors, canopies, fascias, interior partitions, crane systems etc. The building is made water-tight by use of special mastic beads, filler strips and trims. This is a very versatile building system and can be finished internally to serve any required function and accessorized externally to achieve attractive and distinctive architectural styles. It is most suitable for any low-rise building and offers numerous benefits over conventional buildings.It is very advantageous over the conventional buildings and is really useful in case of the low rise buildings. steel structure buildings are generally low rise buildings; however the maximum eave heights can go up to 25 to 30 meters. Low rise buildings are ideal for offices, houses, showrooms, shop fronts etc. The application of steel structure concept to low rise buildings is very economical and speedy. Buildings can be constructed in less than half the normal time especially when complimented with other engineered sub-systems. Table-1 presents an overview of comparison between RCC, Conventional steel and steel structure structures.
 Good structural design of the building necessitates integration of the structure into a whole physical system. It is necessary to understand the influence of structural design on the architectural design and also vice versa for the development of the subsystems for power, lighting, thermal control, ventilation, water supply, waste handling, firefighting etc. The steel structural systems have come out more popular largely because of their ability to provide flexibility in accommodating these subsystems in the building while allowing architectural forms.Apart from the state of the art technology used for fabrication of steel structure buildings, the other main difference is in the assembling of steel structure. The varied components of the steel structure are joined to each other based on the nut and bolt methodology as against the welding and riveting methodology used for conventional steel buildings. Metal building technologies permit almost complete freedom to the designer and the architect in incorporating whatever features may be needed in the building-structural, thermal, ventilation or acoustical, to name a few.
Advantages
Steel structure building systems provide real value to clients without sacrificing durability, seismic and wind resistance, or aesthetic appearance. Cost savings begin right at the drawing preparation stage. Systems engineering and fabrication methods help reduce interim financing costs through faster construction and minimised field erection expense. An added benefit is earlier occupancy of the facility and a head start on day-to-day operations by the client.Apart from costs, there is an assurance of factory-built quality and uniformity in design and fabrication. These systems are also energy efficient; incorporate watertight roofing systems; enable easy disassembly or future expansion and have the lowest life cycle maintenance costs.Adding to these; there is no mess of sand and cement; power savings; walkable ceilings; progressive and non-progressive panel systems for walls. A poor man can be provided with a home created under strict quality control and having a longer life span, with greater safety against natural disasters like earthquakes and cyclones.
 Moreover, It is possible to create the building in required form and shape. And the 'system approach' renders a holistic way of thinking at one platform for consultants, designers, architects, and builders. Thus it tends to achieve a perfect harmony among various stringent specifications and aesthetic requirements in a most economic way.In nutshell, the benefits may be summarized as under:
Increased speed of construction
quicker return on investment
Ensured quality of material, Design and construction
Unlimited architectural possibilities
Enhanced Durability and seismic reliability
Easy construction, maintenance and refurbishing
Increased Life cycle performance and cost competitiveness
Environment–friendly structures
Better value for money
Cleaner and unencumbered sites
Sustainability in construction through reuse of most materials
Suitability for Hilly regions and other geographically difficult areas
Hassle Free
Optimized design of steel reducing weight
Better Earthquake & Wind pressure resistant.
Energy efficient roof and wall system using insulation.
Easy integration of all construction materials
The building can be dismantled and relocated easily.
Future extensions, expansion modification can be easily accommodated without much hassle.
Faster delivery and erection, saving around 30-40% of project time
Column-free large spans, up to 90 m.
Virtually maintenance free
Single-source responsibility
'Systems approach' ensures integrity and safety of all building components
Lighter weight; savings in foundation cost of 10-20 percent
Insulated from sound and heat, as per the requirement
Better rainwater harvesting through gutters and down-take arrangements
Overall economy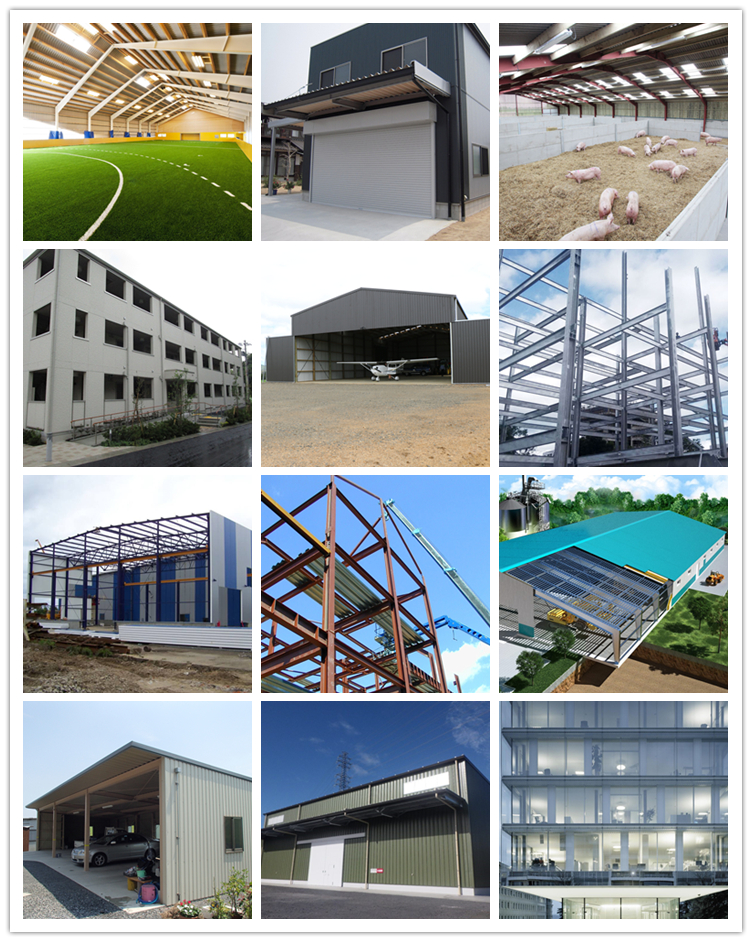 Diversified Applications
Almost every conceivable building use has been achieved with steel structure; the most common applications are industrial, institutional and commercial.steel structure building systems find application primarily in the construction of Warehouses, & Industrial sheds & Buildings. The recent focus has also shifted to cover Rural as well as urban, individual and mass housing projects, farmhouses, slum re-organisation projects and rehabilitation projects, amenity structures like health centre, kiosks, primary schools etc. The pharmaceutical industries and exhibition centre, and functional requirements like offices, seminar halls, call centre, supermarkets, showrooms etc. have also attracted steel structure. Earthquake-resistant buildings are the recent applications of steel structure with wide and immediate acceptance.steel structure concept has acted as a catalyst in the infrastructure development of the country. Single storied houses for living take minimum time for construction and can be built in any type of geographic location like extreme cold hilly areas, high rain prone areas, plain land, extreme hot climatic zones etc.
Applications of steel structure steel buildings include (but are not limited to) the following:
Industrial Buildings & Workshops
Warehouses
Commercial Complexes & Supermarkets
Showrooms
Corporate Office Buildings
Schools
Indoor Stadiums
Outdoor Stadiums with canopies
Fuel Stations
Metro Stations, Bus Terminals, Parking Lots
High-rise Buildings
Customized Housing
Large Exhibition Centers
And many more…
Aircraft Hangers
Labor Camps
Community Centers
Railway Stations & Railway Storage yards
Equipment housing/shelters
Telecommunication shelters
"Almost" any low-rise building
There is a great possibility of improving the aesthetic quality with a choice of roofing elements, exterior finishes, weather-sheds, color system and variations in planning as well as massing.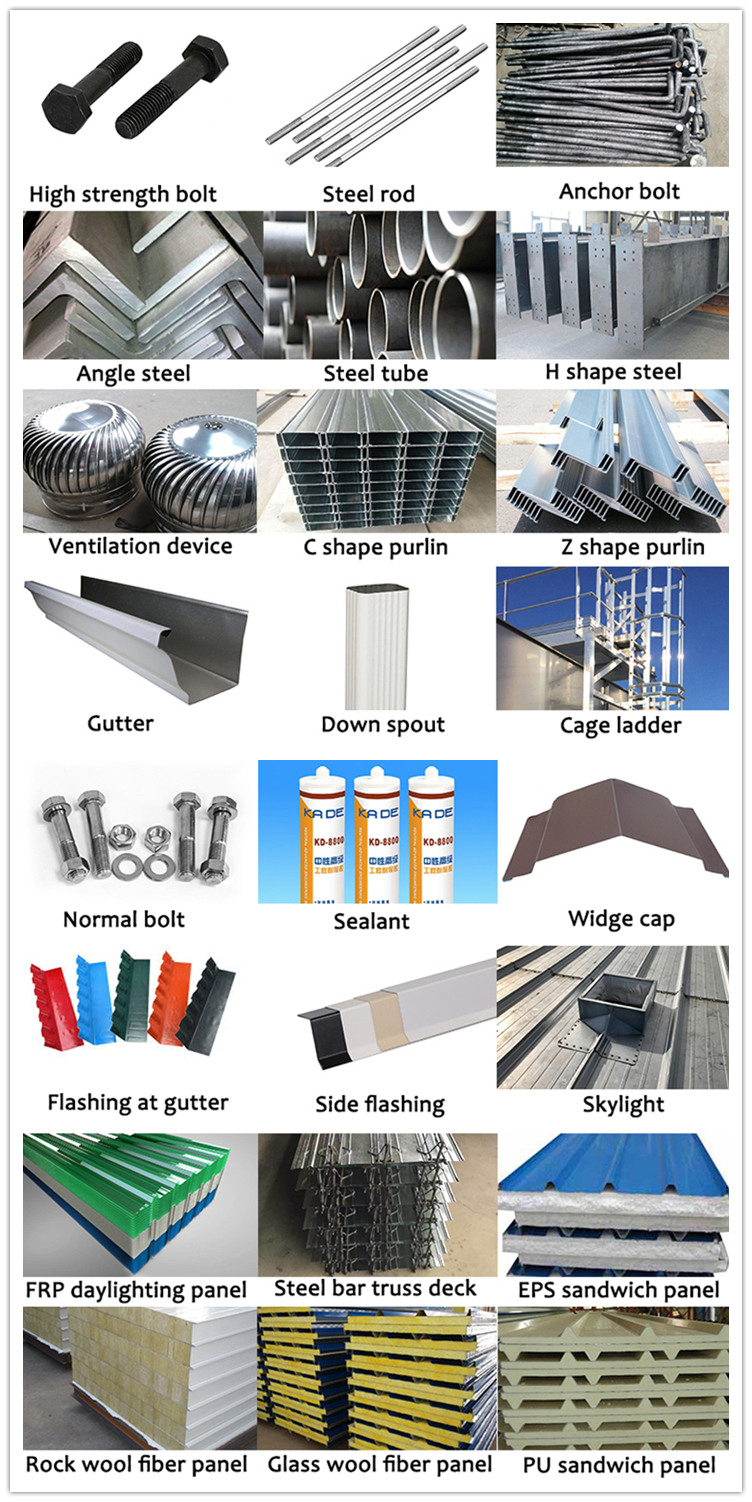 Main Components
There are following major components in a steel structure building:
Primary or Main frame
Gable End framing or Wind columns
Secondary frame or Purling, girts etc.
Roof & Wall Sheeting
Bracing system
Crane system
Mezzanine system
Insulation
Attachments like canopies, fascia etc
Doors, Windows, Ventilators
Accessories like Turbo vents, Ridge Vents, Skylights etc.
Main Framing 
Main framing basically includes the rigid steel frames of the building. The steel structure rigid frame comprises tapered/straight columns and tapered rafters (steel plate fabricated 'I' or 'H' sections are referred to as built-up members). The frame is erected by bolting the end plates of connecting sections together.
Secondary frame or Purling, girts etc.
Purling, girts and eave struts are also known as secondary cold-formed members. There is no welding involved in their preparation. They are prepared by press bending the HR steel coil giving it the desired shape(Z- or C-shape).
Roof & Wall Panels
Metallic plain or color coated profiled steel sheets are used as roof and wall sheeting. The steel sheets are generally made from Zincalume or Galvalume coils in thickness range of 0.47mm to 0.55mm. The base steel is either galvanized having a zinc coating varying from a minimum Mass of 120 gsm./m2 to a maximum of 275 gsm./m2 (total of both sides) or a base steel coating of zinc – aluminum (zinc 45%, aluminum 55%) of total Mass of 150 gsm./m2 (total of both sides) are available with permanent color coating. The color coating is also available in various options in polyester paint coating like regular modified polyester, silicon modified polyester and super polyester coatings. Special organic coatings like PVF2 (Poly Vinyl Fluoride) are also made available. These various color coatings on the base steel with galvanized or zinc aluminum coating provides suitable resistance for various kinds of environment hazards. Metal roofing and siding profiles can be manufactured to any length – limited only by transportation constraints (usually to 12 meters). Lap joints with 150mm to 200mm overlap virtually eliminate water ingress.
Profiling can be carried out at site itself with no limit in lengths. This permits a totally joint-less run of roofing, a major advantage to the designers to create roofing with the minimum pitch. Machines have been developed which permit rolling at the eaves level so that even the task of lifting and shifting the rolled profiles in to position is avoided. Standing seam profiles with a pre-determined height of up-stands can be chosen to accommodate the expected run-off of water without overflow on to the crest of the profile.At the initial project planning stage, roof slope is a key consideration for architects incorporating roof systems into their designs. Slopes as shallow as 1:20 are possible ensuring sufficient drainage of water and good long term performance of roof panels.
These profile steel sheets are usually categorized into two types depending upon the type of fixing arrangement followed. These two types are known as Through Fastened and second one is Standing Seam.Installation of this type of roofing & cladding system can provide 30 years or more of trouble-free service in most environments.
Insulation
These buildings can be properly insulated by providing fibrous insulation slabs/rolls of non-combustible Rock-wool, Aluminum foil laminated, placed over a metal mesh bed created between the purling, and then the roofing steel sheet fixed over it. The siding walls can also be insulated by providing a double skin profile steel sheet wall cladding having Rock-wool Insulation slab sandwiched in between and held in position with the help of 'Z' spacers in between the two profile steel sheets. In similar pattern a double skin insulated roofing system can also be erected.
Sandwich Panels
Another alternative is to provide prefabricated insulated panels, which comprises two single skin panels (plain steel sheets zincalume color coated) with polyurethane foam insulation in between. These panels are intended for use as thermally efficient roof and wall cladding for buildings e.g., in high altitude areas and cold storage. In addition to the above sandwich panels also find extensive use in residential as well as non-residential buildings. The panels provide sufficient insulation and noise reduction properties. Nowadays large cold storage units (Potato, Onion, vegetables, processed foods etc.) are also made with this steel structure building technique.
Crane systems
These steel structure buildings can be equipped with Overhead EOT cranes, Semi-gantry cranes, wall mounted cranes, Mono rails and under slung cranes for various material and equipment handling operations inside. These buildings are being designed for crane capacities ranging from 1MT to 250MT. The crane runway beams (Gantry Girders) are simply supported built-up sections with/without cap channels and with maintenance platforms and ladders. Catwalks for crane maintenance are usually mounted alongside the crane beams, suspended under rigid frame rafters or elevated above the top of the building roof. Cranes at various levels can also be provided. steel structure vendors generally do not keep the supply of rail and Crane Bridge with crane in their scope.
Mezzanine systems
Standard mezzanine structure consists of built-up beams that support built-up, hot-rolled or cold-formed mezzanine joists which in-turn support a metal deck. A concrete slab is cast on the metal deck as a finished surface. Steel checkered plates may also be used as top surface. These mezzanines are used for office space, storage or equipment supports in industries. For commercial buildings and highrise structures several types of light weight panel boards are available as horizontal surface.
Bracing system
Longitudinal cross bracing, used to provide lateral stability to the structure against wind, seismic or other forces, comprises of rods, pipes, angles or cables with an eye bolt and an adjusting nut at both ends, located near the outer flange of columns or rafters and attached at the web of the rigid frame.
Paints and finishes
Any desired finish can be achieved as per the architect/client recommendations. Various choices are synthetic enamel or epoxy based paints, depending upon the environment inside and outside the building.
Accessories, Attachments etc.
As per the functional and architectural requirements, accessories are supplied in ready to fit condition. Ventilation and lighting systems should be properly designed in consultation with an expert.
High Strength Materials
The standard mild steel used in civil engineering construction have nominal yield stress values of approximately 250MPa but the steel structure industry is using high tensile hot rolled steel plates and coils of 345MPa.  the galvalume or zincalume roofing and wall sheets have strengths in the range of 550MPa. Steel became more popular in design and construction of larger structures as well structures with unusual geometry due to its large strength to weight ratio, viability of economical fabrication, and ease of erection.
A typical sample of material specs for a steel structure project, as defined and freeze in advance is enclosed for ready reference. This indicates that the client is assured of the quality of material that is being supplied.
---
---
Write your message here and send it to us